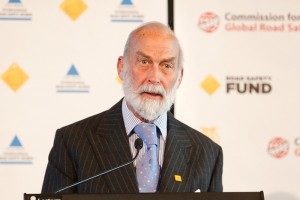 Since 1987 The Prince's Awards have given public recognition to those who have improved road safety throughout Britain. Now the Prince Michael International Road Safety Awards recognise outstanding achievement and innovation world-wide.
On the eve of the Second High Level Conference on Road Safety in Brasilia, HRH Prince Michael of Kent presented five of his International Road Safety Awards.
Awards went to The City of Curitiba (Paraná, Brazil) for a new system of Pedestrian Lights for People with Reduced Mobility, Latin NCAP, the Network of Employers in Traffic Safety (NETS) and FEVR – The European Federation of Road Traffic Victims.
The Prince also presented a special award to The Commission for Global Road Safety which was received by Lord Robertson, the commission's chairman.
Image courtesy of FIA Foundation